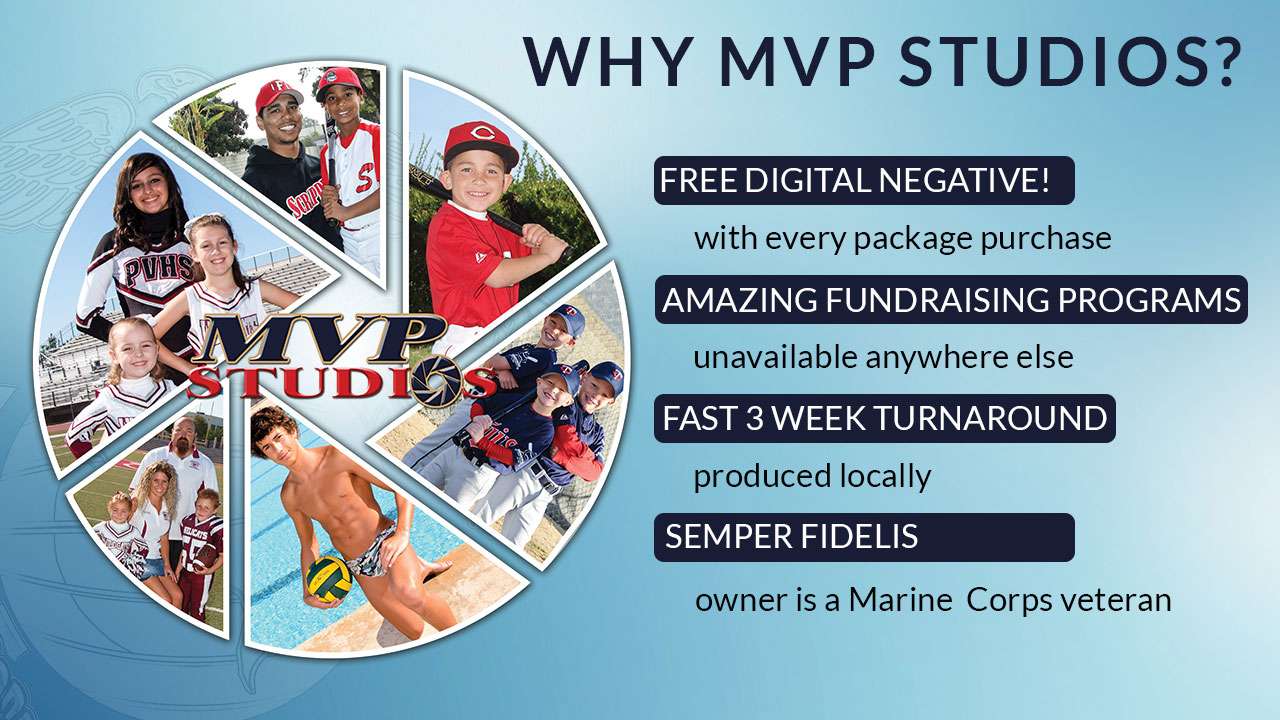 Quality Photography by Professional Sports Photographers
We only hire true, professional sports photographers for our sports photography business.  This means you are always getting the highest quality photos from MVP Studios. After your photos are taken, they are processed at one of the nation's best youth photo labs, which is located right in the Temecula area. Our state of the art lab processes countless youth sports photos every day and youth sports photography is at the heart of their business.  Our full time graphics department can design custom products for your organization and we have one of the best selections of sports photography products available today.
Experienced, Professional Sports Photographers
Our youth sports photographers go through an intense training process before they are even considered ready to shoot at an MVP Sports Picture Day. We only use the most sophisticated digital equipment available with professional lighting to ensure the highest quality images...because quality matters! Check out what our customers have to say about MVP Studios!
"Excellent Customer Service!"
I just wanted to let you know that Heather provided me with excellent customer service. I explained to her that my son was told by another child on his team to make a bad face for the picture so, he did. Heather told me that we could retake the picture over the weekend or she had another shot of my son which she sent to me so, I could review it and decide what I wanted to do. It was a pleasure talking with her. She was polite and answered all of my questions. I haven't had anyone help me lately that has compared to the quality of service I received from her.
Thank you for hiring such a competent employee. 🙂  Cathy R.
I just wanted to express my gratitude and amazement at your company. I was unhappy about my son's original photos. The following day I believe, I was contacted about a make up session. Right there, showed me fantastic customer service and that your company truly cares! Well I just received my new photos today and am beyond thrilled. Amazing job by Heather. From the first contact she has been professional, helpful and just great. She emails me back quickly. She was great with Justin at the make up session. And the picture, just perfection! I can't say thank you enough to her for making this a wonderful experience. I would highly recommend MVP to all my friends and look forward to our next time. And Heather deserves a promotion and day off with having to deal with me. Thank you again MVP. You guys hit a grandslam with me and my family!
I wanted to touch base to say THANK YOU for the wonderful job that MVP Studios did with the DPYB picture day last Saturday!! I have heard nothing but the highest compliments about the service that MVP provided. The photographers were on time, organized, patient, courteous and finished exactly when they were supposed to. As you can imagine, I was a little bit nervous to recommend the switch to a new photography company (after years with a prior firm) but from the beginning when I contacted Jean, I felt comfortable and confident that MVP would do a great job. You all actually surpassed my expectations and we are thrilled to have contracted with MVP... Thanks again and please pass my comments on to the owners, Jean, Stephanie, Ryan and all of the assistants.